Thanks to Rastasnob and Reggae Revolution I had the chance to interview JULIAN MARLEY during the Italian venue of the "Awake" tour, on 3rd december 2009 in Bologna @ Estragon Club.
The Interview took place at the Hotel, thanks to the cooperation of Julian's manager, Mr. Jermaine Forde (ghettoyouths management) and Estragon Press Office.
It was a great pleasure for me, and I would like to share it with you:
Nadia Bestjamaica: First of all welcome you to Italy, this is in name of Rastasnob magazine, the Bobmarleymagazine forum and Reggae Revolution forum.
Julian Marley: Irie, yes.
Nadia Bestjamaica: the first question is "How much and in which way the Rasta beliefs and philosophy influence your life style?"
Julian Marley: in which way? Well I'm I would say in which way, in all life, in all forms of life, rasta is influence which is God is influence, so for me to be positive and to be spiritual, you know, is the key for me, so rasta  just keeps me balanced at all time.
NadiaBestjamaica: ok.. so the second question is "At what age and in which way did you start to be involved in reggae music and what do you remember about your father?"
Julian Marley: well reggae music as been fam you know coming up you know but first time really get into reggae music still was at least 6 or 7, started out when going to Jamaica for the first time and been able to play instruments, cause I was born in London so when you know going, in London  not too many  musical instruments around so have to wait every time summer holiday, go to Jamaica, play some music so we play music on holiday you know
Nadia Bestjamaica: yes.. in Jamaica music is from the morning to the night.. so  Tell me something about  "Awake", which are the highlights of this  new album?
Julian Marley: well.. we have a few highlights, first of all Awake is.. for me Awake is a motivating kind of album cause I would like to say you know, many of the songs are geared up for this time that we living in you know we have so much sufferation and the value of money has gone down you know people suffering so for me this album is kind alike  we don't care what happen we will make it true, that what this album is kind a geared up for  we have song like "Trying" which  is a positive motivating song we have songs like "Just in time" which is a spiritual kind of faithful song to do it God you know we have songs like "A little too late" which is a collaboration with me and my brother Steve, have a next collaboration with Junior Gong "Violence in the streets" and we have a next one with Mr. Cheeks we call it "Oh Girl" we have quite of few nice songs all of them is geared for motivation.
Nadia Bestjamaica: Your father believed that racism and hate could be cured by injecting music and love into people's lives. In your song "on the floor" you sing that music is your life.. Which important lesson and message can be drawn from your music?
Julian Marley: well what we draw from my music is the same kind of things that you draw from our father's music which is one unity across the globe it doesn't matter where we go we are one people so for me is to make the people them realize that we are one, if we don't realize it then.. when we are not one it is easier for us to suffer we don't know unity is only one it is known that when we're together we will never suffer, so for me this music is geared for same things love and is unity and justice.
Nadia Bestjamaica: musically speaking, how is your relationship with your brothers?  and, besides your father,. which other artists have influenced or are influencing your music style?
Julian Marley: well… I listen to a lot of music you know I listen so much music sometimes I don't know who the artist is, I listen from blues to jazz, dancehall, funk, reggae, hip hop, R & B, so for me I'm motivated by the greatness, Stevie Wonder, Nat King Cole,  Miles Davis, anything, I'm a music lover, so I have no boundaries in music, so for me all.. everyone.
Nadia Bestjamaica: In the last song of  "Awake" you sing that people have to keep on trying and never accept failure. This positive thinking encourage people to keep alive their dreams and never give up. Do you also believe that "where there's a will there's always a way"? and what goals do you have for your future?
Julian Marley: where there's a will there's always a way when you have faith… faith is the most important thing cause if you have not faith you can stop doing what you are doing today  but with faith you keep going everyday so for me is a drive. For me to be in the future I mean, to always be doing humanitarian work though music in every way possible right now the world is free so you don't have to pay no money to speak from your hut anything else now we built was it but right now is the humanitarian works and we have the world which is for the spirit.
Thank you very much for this interview.
- A special thank to Alberto for pictures and video support -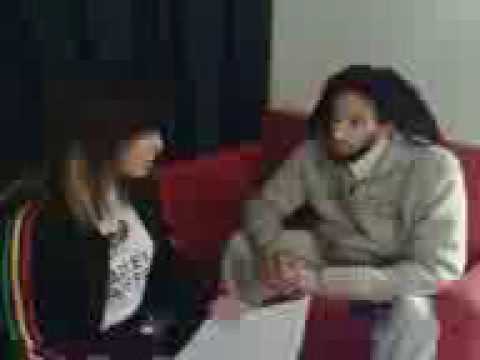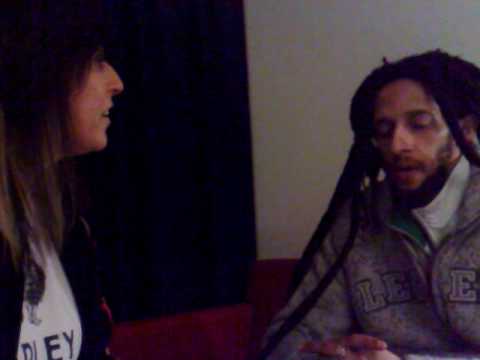 Interview with Julian Marley - Bologna (Italy)

,
© 2009, bestjamaica
All rights reserved BobMarleyMagazine.Com
Other posts: