ONLY FOR BOBMARLEYMAGAZINE VISITORS
FILL THIS FORM FOR RECEIVE A PRE-RELEASE OF THE CD (MAX 100)
From CATCH A FIRE to the present day, this undisputed Ace of Bass Familyman Barrett has worked with artists from Alpha Blondy, Taj Mahal, Stevie Wonder, to KennyChessney. This brother proves he still got what it takes. A true force to be reckoned with.
Brother Glenn DaCosta lends his extraordinary talents to this new project. One of the "Originals" from the hey-­?day of the Wailers. A talent unmatched and unparalleled.
The MIGHTY Nambo Robinson has since his recording on Survival to the present day continues to be in the rotation of talent. When not on tour with the Wailers, can be found with Sly and Robbie, and other Reggae greats.
The sweet sweet sound of Brother Chico Chinn brings the soul, the fi-­?ya to take the Rastamon hi-­?ya. Since his recording on Survival has continued to dominate with a sound no one can replicate.
On drums we got Drummie Zeb whose early years in Richmond Va. groomed him to take the stage for 10 years with the Wailers. Not one to be complacent, Brothe Zebbie has sinced moved on to bridge country and reggae with a whole new sound, REGWA-­?REGGAE-­?COUNTRY. You can catch this multi-­?faceted musician on the big screen in Kenny Chessney's 3-­?D Summer.
The angelic soul sisters, Eleanore Walters and Anncia Banks with their unmatched vocal abilities, truly lift the vocals to heavenly heights.
On keyboard and some gutair, Christian Cowlin lends his considerable talents.
This is singer and songwriter, Robert Marcey's debut CD.
Rounding out this artistic powerhouse are Neville and Nesta Garrick on CD design and layout. Make this colaberation DESTINED TO BE A CLASSIC!!!
MUSIC TO MAKE HEARTS MOVE, MAKE FEET GROVE – ONE LOVE
For Listen a simple tracks CLICK HERE
WAILIN FOR JUSTICE
1. Always Eternally
2. Shame
3. Dub Angel
4. Fams You Be Loved
5. What Dem Know
6. Dread Lion
7. Wailin' For Justice
8. Come-A-Troddin'
9. Love Grows
10. Always Eternally (Scientist Dub Mix)
11. Love Grows (Guitar Mix)
download: wailinforjustice (1.93MB)
added: 07/06/2010
clicks: 2613
description: Wailin For Justice CD Presentation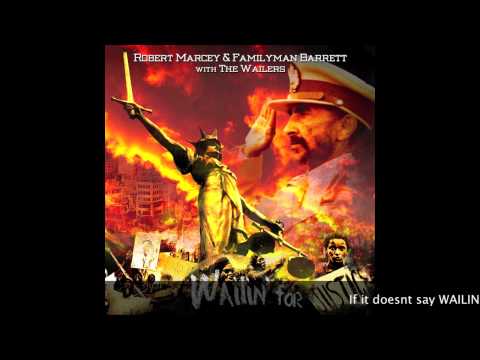 © 2010, ivan
All rights reserved BobMarleyMagazine.Com
Other posts: